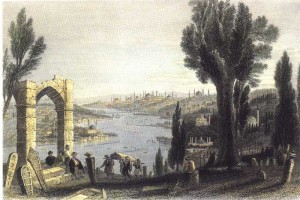 Me and my brother directed the drama sequences for the documentary film "Evliya Çelebi: Kutsal Yolculuk" which was finished in january 2013. Because the schedule  was tight we weren't satisfied with the version of this scene which was in the film. So we re-touched it until we got sick of it:) and now its done.   I've made the mattepainting and photography work. The hard part for this matte is that you have to be true to the setting. I started searching for old Istanbul drawings and photographs. The drawings I've found didn't have a solid date on them but you had to guess. Some had 16th century, Istanbul in 1865 or even wrong names on them. We went to Piere Loti for location shooting and to get the feel of the place.
After about a months work, I was forced to finish the matte as time was running out and other scenes needed attention. This was a tough job and after the re-touching done, we decided to put it in vimeo and leave it alone..
While make the Matte, we searched for places that we could place the actor, and which had the same light direction as I was going to use with the painting. After a months search we found 2 places but weren't really satisfied with them. Just about a week from the shoot, we found a place near çamlıca, which was a little absurd for shooting but it looked great with our half finished matte.
Piere Loti, Istanbul in the 16th Century. 2013 Mattepainting
Final VFX:
Mattepainting, Photography & Grading
by
Emir Aksay
Compositing, 3D Modelling, Matchmoving, 3D Mapping, Rotoscope
by
Murat Aksay